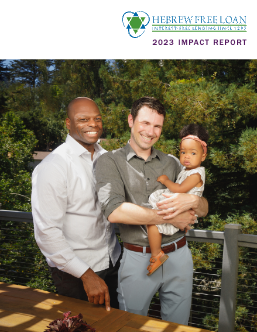 Click on the document above to view our 2023 Impact Report!
Meet a few of the loan recipients who've benefited from our interest-free loans
Get an overview of our year in numbers
Hear why so many people have chosen to support our work
We extend a heartfelt thank you to all our generous donors. Each donation has a direct impact on someone's life, and every dollar makes a difference!
To view a PDF version of our 2023 Impact Report, click here.

"I've been involved with many Jewish organizations throughout my rabbinic career, and Hebrew Free Loan is one of the best. Not only does it loan money, interest-free, to people who need financial help for many reasons, it does so in a way that preserves their dignity and self-respect. I'm honored and proud to be part of Hebrew Free Loan."  -Rabbi Steven Chester, Donor
"We feel fortunate to partner with Hebrew Free Loan in its life-changing work. We've guaranteed many loans over the years for friends, family members, and young people who are starting businesses, going to school, or consolidating debt. It's gratifying to see their sense of pride and accomplishment when they repay their loans. We're proud to support such a valuable asset to our community."  -Paul & Sheri Robbins, Donors & Guarantors
"

After I got out of the service, my wife and I (with two little ones) moved to San Francisco for a job offer. When the job didn't work out, we found ourselves 2,000 miles from family and almost out of funds. You came to our rescue, and within two months, I got an even better position that lasted till I retired 32 years later. I don't know where we'd be today without Hebrew Free Loan. Thank you!

"

  

-I.A. Herman, M.D., Donor, Loan Recipient & Full Circle Club Member
"I love Hebrew Free Loan's time-tested ability to help people with their financial needs during periods of transition. Because the capital is recycled, the funds are available again and again to help future generations."  –Jerry Weintraub, Donor